Some startups don't just fulfill a need in the industry — they completely change it. And with technology, the potential for change is nearly limitless. From supply chain to photography to hospitality, these industries have been revolutionized by local tech startups. We talked to some of the professionals responsible for those industry-changing products and asked them how they'll sustain their momentum.
As the term implies, global logistics involves many moving parts and processes that technology can help simplify. Director of Sales Jon Rubel, who has been with Flexport since June 2016, explained how the company has used technology to make major changes in a company's supply chain.
How has your company set itself apart as a leader in your industry?
The freight forwarding industry is 200 years old, and merchant shipping dates back thousands of years. And while technology has become more sophisticated over the years, the logistics of global trade are still stuck in the past. It can take up to 18 different companies to move cargo from point A to point B. Much of that complex coordination is still done using phones, emails, fax machines and physical pieces of paper. We're replacing those methods with software — not just automating away transaction costs, but improving the user experience for companies as well. By structuring data throughout our clients' supply chain, our online platform gives clients more visibility and control than ever before.
What do you think will be the next big tech trend in your industry? How do you plan to stay ahead of that trend?
Flexport has emerged during a transformational time in the greater supply chain and logistics space. Today, it's all about managing the supply chain in response to demand signals, and you do that by aligning all of the entities across the supply chain through information flows. What it looks like in practice is a series of APIs that integrate everything upstream to all the vendors and suppliers. Ultimately, you end up with a programmable supply chain where the demand planning system is directly hooked to the supply side. With the addition of AI, the entire process effectively runs on autopilot. We'll see how long it takes to get there, but we've already seen inklings of it at Flexport. Because our platform provides customers with real-time visibility into products moving in transit, it means they can include these products in their inventory allocation models, reducing working capital tied up in physical warehouses.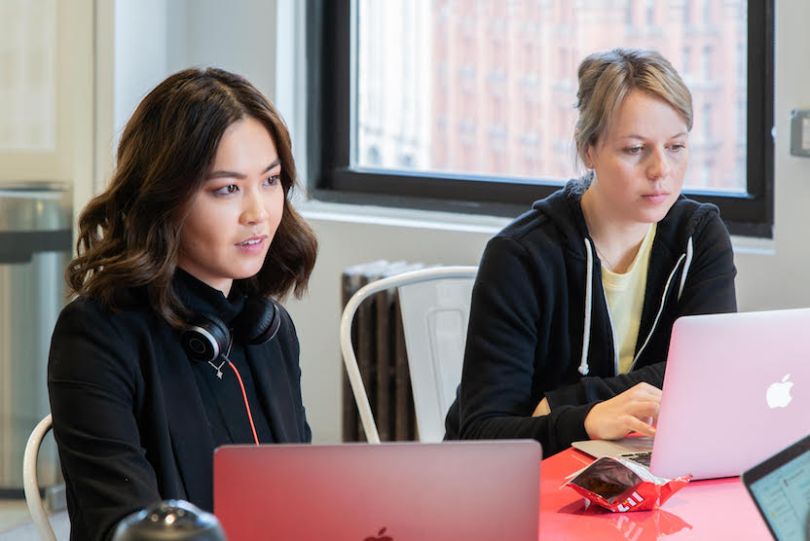 While AI-powered photo editing company Meero began as a way to help photographers, their technology has benefited consumers as well. They've opened up the possibility of automating tagging and making images more accessible to all. Fleet Coordinator Paola Vargas explained how these changes have shaped the industry.
How has your company set itself apart as a leader in your industry?
We noticed that professional photographers typically spend 30 percent of their time on set shoot and 70 percent post-production. This means that photographers spend less of their time  shooting and being creative, and spend most of their time editing. So we figured we could scale a visual content production activity like no one else if we managed to automate retouching through AI. This is what our R&D team has built, which in turn gives photographers back that time to be creative and innovative. Our growth has been amazing since we brought this innovation to the market.
What do you think will be the next big tech trend in your industry? How do you plan to stay ahead of that trend?
I believe a massive trend will be to use tech to increase inclusiveness and accessibility. Our AI technology applied to images allowed us to build in awesome image recognition features. This application can enrich content and tag pictures automatically, increasing accessibility on our clients' websites and making it possible to do things like automate an image description for the visually impaired. In general, what's amazing at Meero is our product is not AI-powered because it's cool, but because it helps advance our mission, which is to have photographers and creative people focus on what they love while we focus on the output getting better and faster.
HotelTonight is a hotel booking service that focuses on last-minute reservations. Chief Product Officer David Covell explains how the company's focus has encouraged people to be more spontaneous, which has ultimately changed the way people plan their travel.
How has your company set itself apart as a leader in your industry?
Our focus on mobile-first, curation, and simplicity has set us apart and made us one of the most loved ways to book a place to stay. Our emphasis on last-minute bookings has enabled people to travel more spontaneously and has allowed us to work with great boutique hotels that offer a unique and delightful experience for guests.
What do you think will be the next big tech trend in your industry? How do you plan to stay ahead of that trend?
Curation. I believe that the companies who curate the best end-to-end experiences will win. I see a mix of technology, in-the-know, thoughtful human beings, and strong creative collaboration from our hotel partners. HotelTonight has a natural advantage here since it's been our model since the early days and something we do really well. Hotels and bookers alike love using HotelTonight and we're continuing to invest in these relationships to make the experience even better.