Melio, an NYC startup that helps small businesses transfer and receive payments more efficiently, announced Monday it raised $110 million in fresh funding, bringing its total valuation to $1.3 billion. The round was led by Coatue and brings Melio's total funding raised to $254 million.
The company launched out of stealth mode back in September, arriving on the scene at a time when reliable digital payments are more important than ever amid the pandemic. In a nutshell, Melio's platform is a place where businesses can add vendors, upload bills and invoices and schedule payments, doing away with things like paper invoices, snail mail and bank transfers, which have been holding back SMBs for decades.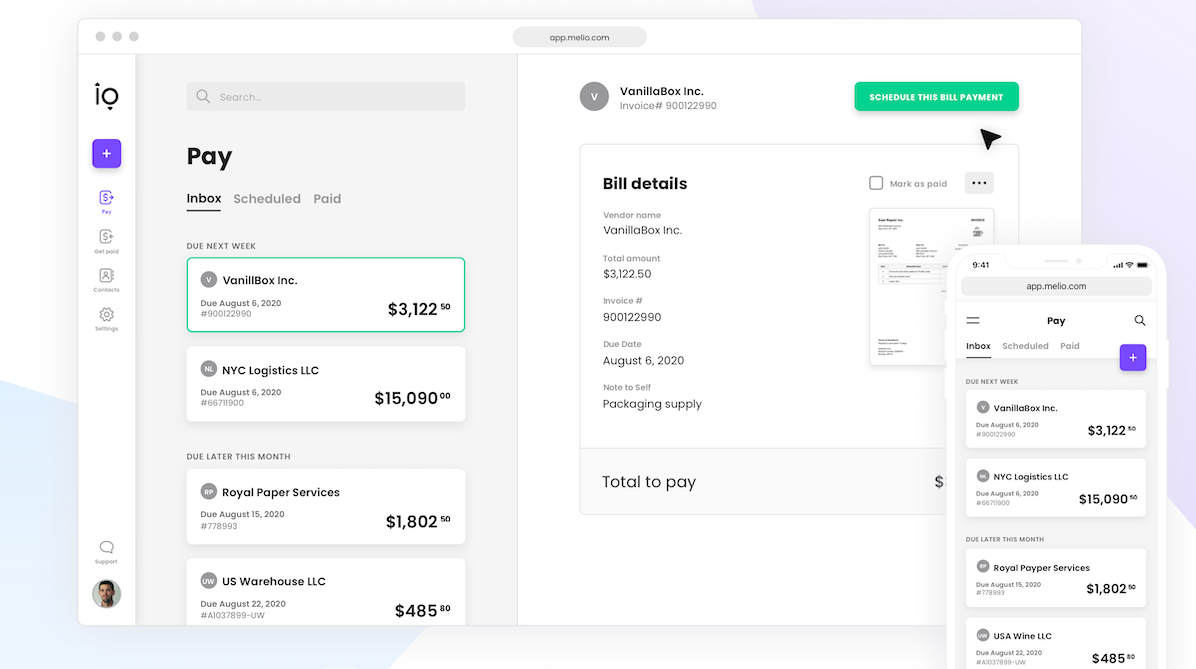 Now, Melio says its monthly active users grew by more than 2,000 percent in 2020, an indicator that small businesses are widely looking to digital solutions as a way to mitigate the effects of the COVID-19 pandemic.
"Going digital is the only way small businesses can compete against larger rivals and stay ahead of the curve," Michael Gilroy, a general partner at Coatue, said in a statement. "Melio has identified both the opportunity and duty to help small businesses manage their finances remotely and improve cash flow, in normal times as well as during this crisis, as physical payments supply chains are interrupted and overwhelmed."
Looking ahead, Melio says this latest funding round will be used to expand its offering across the United States. The company is also hiring, with more than a dozen open tech positions at its NYC office.
"Getting better control over cash flow and the ability to manage payments remotely — and small business digitization is here to stay — are key elements of a business' health, and that process shouldn't be complicated," Melio's CEO Matan Bar said in a statement. "We see this fundraising as a great privilege and responsibility to support small businesses during these challenging times."