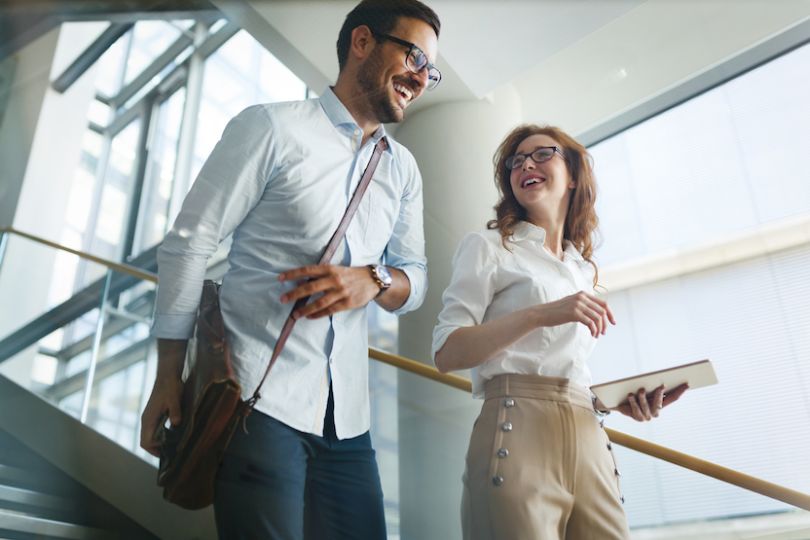 How did tech leaders at NYC's companies get to where they are today? Depending on who you ask, the answers include some variation of hard work, humility and intelligence. We caught up with tech leaders at various NYC companies and got their take on how they've grown, what makes a successful team and what they're most excited about for the future.
Adam Waksman, senior director of engineering and data science, has been with Foursquare since July 2017. Over the course of a year, his greatest struggle has been finding the balance between delegation and action. He explained to us how he relies on his team to pick up what he cannot.
How do you build and sustain great teams?
I place significant weight on team morale and keeping retention rates high. I aim to make the teams under me function in a highly cooperative way and feel connected to their knowledge domain. I tend to find that a lot of team morale comes from passive things that are not necessarily highlighted, such as consistent fair treatment, alignment of work with visible goals and very frequent communication.
What are your big plans and expectations for the coming year?
Foursquare is going through a growth phase, both in terms of the size of the organization and the scope of what our technology is capable of. I expect a continued push to ship innovation on our main product lines, especially as we create more of an integrated enterprise platform. On the core technology side, this means restructuring of teams as their remits grow, as well as realignment around new product focuses. A point of emphasis for me is putting the structures in place underneath and around me to make my division robust to transitions, changes and my own need to address new problem areas.
Shiven Ramji has been DigitalOcean's VP of product for about two years. During that time, he's watched the cloud platform grow from 200 to 400 employees, and has been tasked with maintaining the product team culture while the organization scales.
How do you build and sustain great teams?
It all starts with having a clear definition of the product culture that you want to cultivate. We built a product culture framework very early on to ensure that every process, from interviewing to performance management, is calibrated against those tenets. We continually learn and adjust these tenets based on the size and scale of the teams and the business overall.
What are your big plans and expectations for the coming year?
We are obsessed with building the developer cloud for modern applications. We have a very exciting and feature-rich roadmap ahead that will bring simplicity to application developers and make it easy to build and deploy applications to the cloud. I'm also excited about our continued international growth as that will bring new opportunities and new ways to serve developers and founders in all corners of the world.
Principal Software Engineer Jeremy Pfund has been with hospitality company SevenRooms for a total of five years. During that time, he's learned that words matter. He makes it a point to praise those around him when praise is due — and that's what truly energizes his team.
How do you build and sustain great teams?
There's no silver bullet for building a great team. You need to find people who embody the same standards that you uphold and whose ideals align with the mission of your company. Each member must understand that competence is king, and balls can't be dropped — especially at a startup. You have to give your team a platform to share thoughts and ideas, and show them the impact of their work. Strong talent — especially engineers — can work anywhere, so you have to give them a compelling reason for why they are working with you, and how their deliverables are moving the needle.
What are your big plans and expectations for the coming year?
One of the joys of being a young company and a tight-knit team is making the decisions on where to bet big in a world of opportunity. It's the leap from tactics to strategy. Over the years, we have built a strong client base for our core product, and can now begin unlocking network-level value. One of our differentiators is full operator alignment, and we constantly ask ourselves how we can help our operators create memorable experiences for their guests, converting first-timers into regulars. Our bet? Pre-, during- and post-service personalization with a scalable toolset. This could get big.
Co-founder and CTO Zach Silverman launched LeafLink in 2016. Through building LeafLink, he has learned to find product market fit by creating quick solutions, testing them in the market with real customer feedback, and iterating to create more complete features. In a new market like the cannabis industry, you have to be careful not to over-engineer and make assumptions because we learn new things every day.
How do you build and sustain great teams?
Trust and execution are core values at LeafLink. We actively recruit for these traits and instill them in all our team members. To us, that means taking ownership and responsibility to deliver on the area you are tasked with. By delegating with trust and expecting execution, we can get more done as an organization. At the same time, providing ownership and staying out of people's way to deliver is also a powerful thing for an individual in terms of engagement and satisfaction.
What are your big plans and expectations for the coming year?
LeafLink is building the cannabis industry's standard wholesale ordering platform. To accelerate our growth this year, the engineering team is transforming from a core scrum team working on a monolithic Django/Python app to a service-oriented team with appropriate DevOps tools and culture to allow us to prototype, build and release quicker. This shift will ensure that we can reduce lead time, delivering top-notch technology for our company and the cannabis industry.
Matthieu Laurent, head of technical experts, has been with marketing tech platform AB Tasty for six years — but before that, he was living in France. His greatest challenge as a leader has been making the move and adapting to a different culture. He learned communication — especially for an international team — is everything.
How do you build and sustain great teams?
I always go back to AB Tasty's core values. If someone doesn't share the company's values, I know that it won't be a mutual fit. I also always like to be open with my team — open with my knowledge, open to feedback and suggestions and open to involving everyone in big decisions. When your team feels respected and listened to, they will reciprocate.
What are your big plans and expectations for the coming year?
The upcoming year will be very exciting for us. We are opening an office in San Francisco and building out a team there. We plan on hiring other CSMs and technical experts in both San Francisco and NYC. It's really crucial for me to start putting the processes in place now (communication, resources, documentation) to make sure the new team members will integrate smoothly without having the clients feel any impact.
Jackpocket's CTO Leo Shemesh admits he was always a natural builder — manager, not so much. His greatest challenge over the years at the company was switching from developer mode to leader mode — and he got there with the help of other tech leaders.
How do you build and sustain great teams?
The first step is knowing the structure you're attempting to get to. Build the team to handle projects effectively; track things like velocity and bugs, so that you have metrics that can be used to figure out how to scale the team as projects multiply. Giving developers opportunities to branch outside of their core responsibilities is a great way to keep them excited about work. At Jackpocket, there's no shortage of interesting tasks that people can take on. Keep communication channels open between the tech team and the rest of the company, and make sure everyone's voice is heard.
What are your big plans and expectations for the coming year?
Jackpocket's at a very exciting stage. We've established ourselves as a force to be reckoned with in the lottery industry, and battled hard to get here. In the coming year, we expect to double our employees, expand our consumer reach by 10x — bringing Jackpocket to new markets across the country — and become a brand that lottery players know, trust and enjoy. To support this, our infrastructure must constantly improve to make the system more scalable, robust and secure. I expect we'll have openings for new backend developers, full-stack developers, devops, QA engineers, data scientists and more.
President and CEO Rodger R. Desai has been with fintech company Payfone since its inception in 2009. During that time, he's learned that even when it appears like there is no way to create a win-win situation, if you work hard enough, there is always a path.
How do you build and sustain great teams?
For me, the secret to this is much more straightforward than some might think: Hiring people who are smarter than me, and then giving them the resources they need to succeed, is critical. My only job is to ask the right questions — great people know the answers. It's not only relieving that I don't need to know everything, but it's also a winning playbook for long-term success.
What are your big plans and expectations for the coming year?
The coming year will involve looking hard at ourselves and asking the right questions to ensure that we see continued success as we transition from a startup to a growth company. As we close out 2018 doing 19 billion authentications for Fortune 100 companies and growing more than 100 percent in headcount, we'll be examining whether we are focused on the right KPIs and making sure that everyone is set up for success with the resources they need to keep innovating and pushing forward in the new year.