When considering their offices' top perks, some employees might cite trends like kombucha on tap, standing desks or even nap pods. 
But for the tech employee who spends eight (or more) hours at the office, vitamin D is probably closer to the top of the list. According to a study by the Future Workplace Employee Experience, 78 percent of employees in the U.S. said access to natural light and views improved their wellbeing and 70 percent reported it improved work performance. 
Whether they're decorating the office in nature-inspired prints, adding live plants to collaborative workspaces or building a wrap-around terrace that showcases Park Avenue, Cedar and YieldStreet look for innovative ways to bring the outdoors inside — and then some. 
Cedar, for example, regularly hosts external speakers, panels and networking events, including a thought leadership series called "Cedar Talks." Employee Experience Manager Danielle Zellman said Oscar Health CEO Mario Schlosser recently participated in a fireside chat that was especially candid and thought-provoking.
"With several cozy couches, exposed brick walls and plenty of trees and plants, we're fortunate to have an awesome space for hosting events," Zellman said.  
We spoke with managers from Cedar and YieldStreet about design inspiration and their exciting plans for the future.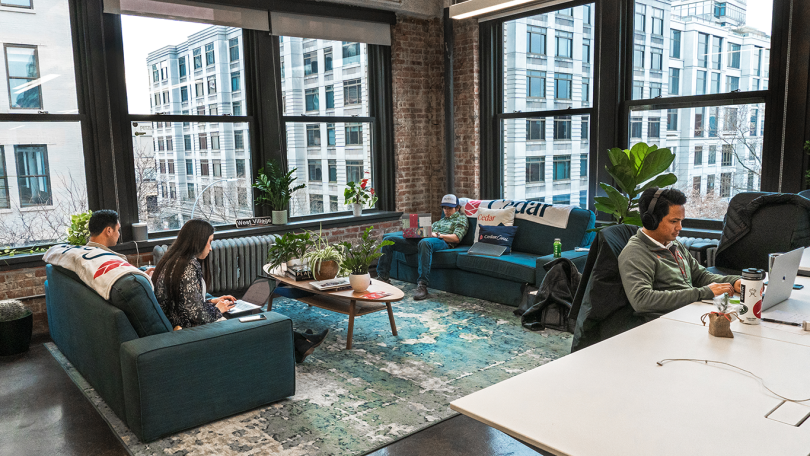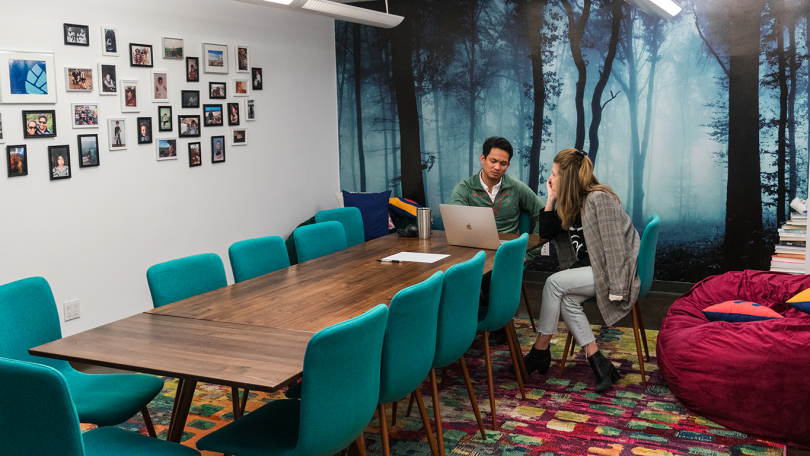 Employees at Cedar aim to improve the patient healthcare experience by offering patient billing and engagement tools on a single platform. Employee Experience Manager Danielle Zellman said the company's namesake inspired the office's nature-based design. 
All of our conference rooms are named after a plant or tree.''
What inspired the design of your office, and what features do employees love most? 
With a name like "Cedar," it seemed only natural to go with a plant theme. All of our conference rooms are named after a plant or tree. Cedar's incredible visual design director and I had a great time picking out plant-themed wallpaper for each room. My favorites are 'jungle' and 'vines.' Our previous office in Soho had such a cozy vibe, but we outgrew it and it was difficult to find a quiet place for heads-down time. 
This new office has double the square footage, with more than 16,000 square feet and over 15 conference rooms, which gives everyone ample room to collaborate and also find a bit of privacy when required.
With all this new space, we decided to use one of the conference rooms as a library, which has quickly become a popular place. The library, or 'woods', has an accent wall covered with an eerie, foggy forest wallpaper that brings an air of tranquility to the space. The velvet oversized bean bags are a favorite for lounging.
Beyond the unique conference rooms, other popular office perks include the kombucha on tap, the stocked snack bar and weekly guided meditations. 
What exciting plans do you have for the future of your office? 
Cedar has such a great story, it's important that we are able to showcase it to our candidates, clients and anyone visiting the office. We are working on creating a "big wins wall" to celebrate our milestones as we grow. It's a busy and exciting time and it's important to acknowledge our wins and all that we are accomplishing. We also have a wall of employees' baby photos —it's always fun to drop by and guess who's who. 
We've begun to host more events in our new space. We recently held our first team movie night in the office. We had a beautiful charcuterie spread from Samesa Kitchen, a popcorn bar with some really creative flavors, candy from the famous Economy Candy in the Lower East Side and cocktails. We moved the bean bags and couches to create a comfortable viewing area to watch "The Farewell," as selected by the office.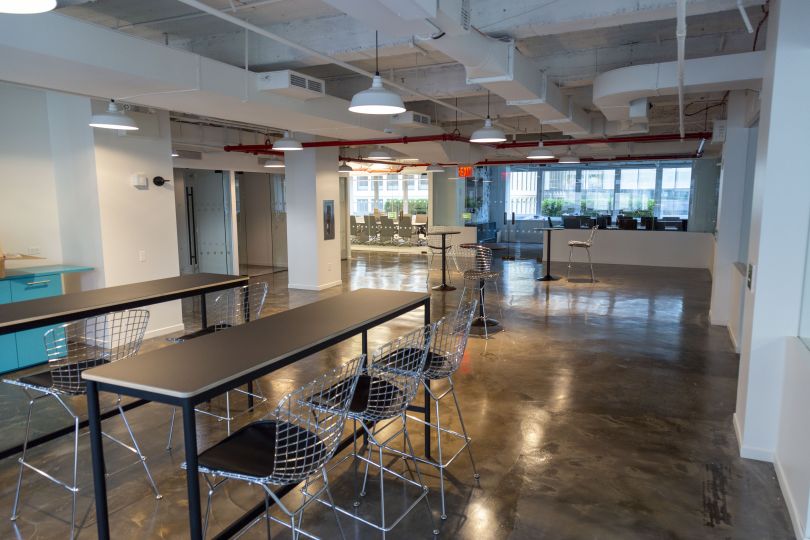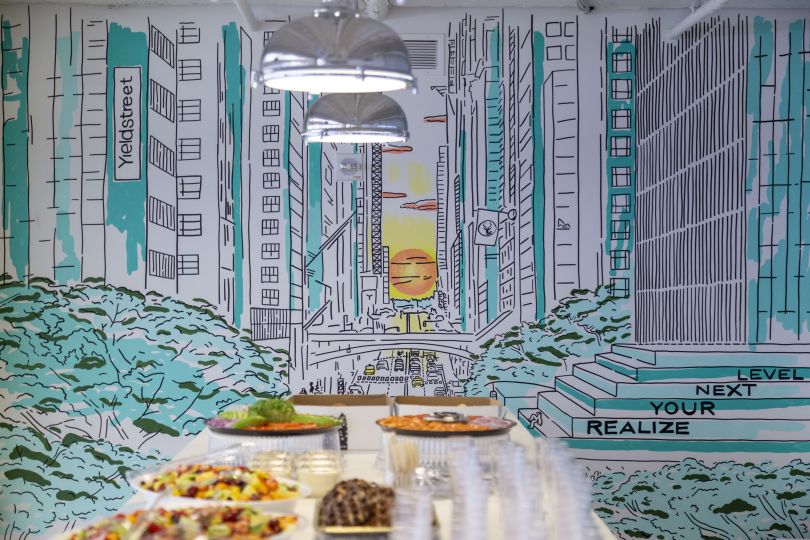 YieldStreet is changing the financial landscape by providing access to investments that formerly weren't available to investors. People Operations Manager Camille Hayden said the office's new wrap-around terrace on Park Avenue has become the team's new favorite spot. After being in the office space for only a few months, employees are excited for new additions, Hayden said. 
What inspired the design of your office, and what features do employees love most?
We want our teams to innovate together, so we designed the space with plenty of communal high tables and cozy couches to make it easier for teams to work together. However, I could tell from day one in the new space the wrap-around terrace above Park Avenue would be the office's favorite feature. It's become a conference room of sorts, as a number of us use it to catch up. 
We want our teams to innovate together so we designed plenty of communal spaces.''
What exciting plans do you have for the future of your office? 
With all of the excitement around the terrace, we plan to add furniture out there to make sure it remains a productive and fun space for the team. We're also in the early stages of adding a lot of live plants and greenery in our kitchen and common areas. We've only been in the space for a month or two, so every week it seems like there is a cool addition.