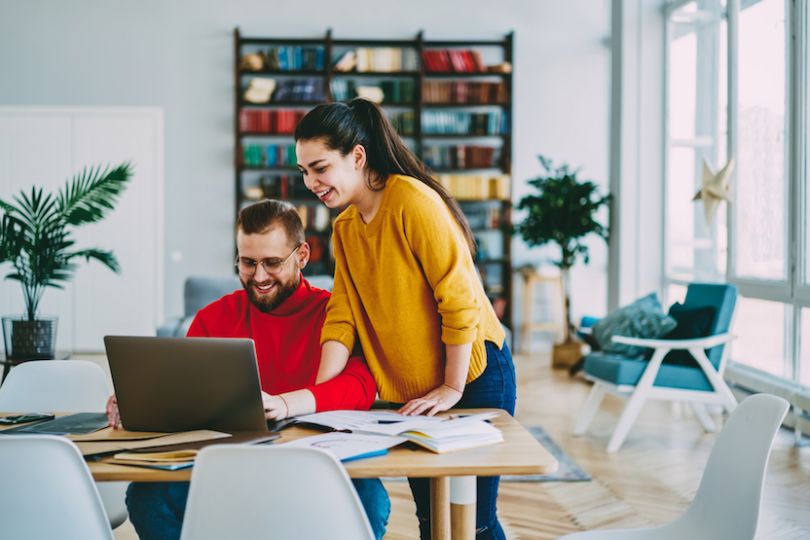 In theory, a professional's career path should sound a bit like this: Major in a relevant field, have a few high profile internships and land in an entry level role with ample opportunity for growth.
As it turns out, it's not always so linear.
We talked to six professionals whose paths were far from cookie cutter; some started in functional roles and switched to tech, while others did the opposite; but they all ended up landing exactly where they wanted to be. Learn from their career journeys and let them inspire you to take the leap you might be hesitant to make.
Though Meka Seymour is now a software engineer with men's grooming company Harry's, she wasn't always involved in tech. In fact, she started on the customer experience team and picked up coding on her own. She walked us through her switch to tech, and how her colleagues helped her with the transition.
Why did you make the switch?
Ultimately, I was really excited about the work the engineering team was doing — Harry's had just launched in the UK, we had launched in retail and we had a lot of exploratory work on the horizon to provide an even more differentiated and meaningful experience for Harry's users online. When the opportunity to join the team and push forward on that front came up, it was an obvious switch for me.
How did your team help you grow? How did you help yourself?
I can't overstate how much folks on the engineering team helped me grow. I started learning to code on my own — not specifically for the purpose of switching teams, but as a way to challenge myself. Several months into that process, I started bringing questions to our engineers and they were more than willing to help me along. They started offering suggestions for what I should learn next, invited me to meetings and gave me opportunities to learn and build alongside the team.
In August 2017, I joined the engineering team as an apprentice software engineer, which was a four-month program that consisted of close mentoring and heavy pair programming. I still learn new things all the time and feel grateful to work with such a great group of folks.
Over the course of his career, Sam Kastan has made a number of pivots: once when he moved from an ad agency to a startup, and again when he moved from sales to customer success. Looking back on his career path, he noted that marketing tech company Bluecore fosters an environment in which the learning "almost happens through osmosis." He explained how that's helped him follow his strengths.
Why did you make the switch?
You get nervous making career jumps like these, as you don't want to be labeled as having Goldilocks Syndrome, where everything is either too hot or too cold. The truth is that I loved working in sales and I think I was pretty good at it. But I was hungry to touch another side of our business. This next step was an opportunity to work deeper within our unique product and, at the same time, develop meaningful relationships with our customers. My job is to ensure they get the most out of Bluecore's incredibly savvy platform. Bluecore opened these doors for me, and I will forever be grateful.
How did your team help you grow? How do you help yourself?
The department's leaders truly practice what they preach and have created an environment that welcomes feedback and fosters growth. We meet constantly, set goals and check in regularly. It's easy to grow when you are surrounded by strong leaders and a dedicated team like ours. Employees are treated well and are largely kept in the loop about what's happening up top. With a culture that places a premium on openness and transparency, the learning almost happens through osmosis. At Bluecore, I feel like I am playing a role in building something special. It just so happens that I get to build my own career along the way.
Anita M. Taylor was always a marketer — and then she joined Stack Overflow, a community for developers. Though her career began in copywriting, it evolved into digital marketing, demand generation and now product management. She walked us through her journey and explained how the team was able to accommodate her strengths and goals.
Why did you make the switch?
Short of becoming a people manager, I felt I had maxed out in terms of my career as a marketer. In addition, my strongest suit was always my ability to manage complex projects. When I came to Stack Overflow, I discovered that there was an entire department of rock stars whose core strength was managing complex projects and the relationships that come with them. So I had a pretty strong case of product manager admiration and envy.
How did your team help you grow? How did you help yourself?
One of my first projects at Stack Overflow was implementing a new email-marketing platform. I got to work closely with the main developer on the project, and we developed a strong relationship. Word got around that I was good at getting stuff done and that I had strong technical skills.

Instead of pigeonholing me as "just" a good marketer, management recognized my organizational and technical skills. They took the leap in allowing me to transition to a product manager role. It meant a lot to know that all of my skills — not just my marketing abilities — were valued.
Bumhan "B" Yu is now a brand designer at relocation platform Updater, but his professional background has no trace of design. Before Updater, he was a translator for a number of agencies and worked on everything from publications to TV shows. While he was interested in helping people's voices be heard across cultures, he wasn't feeling fulfilled — and ended up joining the startup world so he could find a voice of his own.
Why did you make the switch?
Both of my parents are professors, and most of my aunts and uncles have some sort of post-secondary degree. Growing up, I just assumed that I'd become an academic. I was a good student, but graduate school didn't make me happy. As a translator, I enjoyed listening to experts and reading materials on a variety of topics, but I just felt like a tool. There's only so much room — if ever — for your own voice in translation. After two years in the army, I wanted a clean slate and decided design was an excellent way to combine my background in language and psychology with my interest in visual craft.
How did your team help you grow? How did you help yourself?
Updater gives me great freedom in terms of ways to solve any given problem. No one's micromanaging my projects to dictate the directions. Such a full ownership and accountability of projects often forces me to think in broader contexts. I love how it prompts me to actively engage with other team members and other departments. Learning from people in different roles not only helps me better understand the business, but it also helps me grow as a person.
Before Zori Eurdekian joined hospitality startup Resy, he was heavily involved in the restaurant business. He decided to make the switch to a sales role that would let him maintain those ties, and just celebrated his one-year anniversary. He walked us through all the ways the team has helped with the transition.
Why did you make the switch?
Making the choice to switch to Resy was simple: Resy is an innovative company changing the rules and helping restaurants be successful in a competitive time and space. I knew I wanted to be an agent of change within the hospitality industry by innovating rather than managing. Working with restaurants gave me a comprehensive understanding of the daily struggles that owners, operators and staff are faced with.
How did your team help you grow? How did you help yourself?
Thankfully, there's a fantastic support system at Resy and teamwork is inherent to our culture. Beyond having access to extensive training and guidance, we maintain consistent communication and convene regularly to provide motivation and encouragement, ensuring we have the tools to reach our goals. Amongst the staff, there is constant energy, buzz and excitement about Resy's future!
The award for biggest pivot might go to lawyer-turned-program manager Matt Pavese, who joined events platform SpotMe a little over one year ago. He explained how the energy of a trial is similar to the fast pace of a tech startup.
Why did you make the switch?
I don't think I ever truly loved practicing law. While there are many interesting aspects of being a lawyer, this career path was not for me. It felt like my biggest victories came at someone else's defeat, which was bittersweet. Also, at times, the work seemed secluded and lacked a sense of collaboration amongst my peers. I am a hard worker, and while this contributed to my successes as an attorney, I wanted to use this skill in a field that actually interested me. In my case, I've always had a desire for technology and being part of a growing company.
How did your team help you grow? How did you help yourself?
My team has helped me grow by supporting me through my journey. I joined a very diverse team spread across the globe, and this was an atmosphere to which I was unaccustomed. From my first day at SpotMe, I realized I was becoming part of an amazing culture. The team here has been tremendously willing to help me succeed and show what it takes to become a true team player.
I helped myself grow by learning to adapt and acquire new skill sets. Practicing law is demanding and requires excellent organization and confidence in what you are doing. I relied on these skills to help me succeed as a project manager where I delivered close to 30 events in 8 months. It has been my ability to rely on my transferable skills and also adapt to meet these new challenges which has helped me change career paths from being an attorney, to a project manager, to a program manager all within the past year.